With the vigorous development of informatization in the transportation industry, the needs of transportation users for digital signage have become increasingly clear. Digital signage has become an important platform for information dissemination in public transportation places such as airports, subways, and stations, and realizes a harmonious communication channel between transportation operators and passengers.
Unique Display Technology's digital signage brings clearer and more stable picture display to the transportation system with excellent quality, provides comprehensive information display services for passengers, and fully empowers diversified applications in the transportation industry.
01 Airport and railway applications
The comprehensive display of information can effectively remind and guide passengers. As an important medium for providing information services to passengers, HBONY digital signage can provide real-time flight information, check-in guidance, travel instructions, service time, train arrival and departure time, train timetable, government announcements, advertising, etc.

HBONY digital signage adopts IPS hard screen technology, equipped with 500cd/㎡ high brightness and 178° ultra-wide viewing angle, allowing passengers to view flight schedules and other information from almost any angle, providing a clear and unobstructed communication environment for travel . It has "7 x 24 hours" high-load stable operation, and is not easily affected by dust and light, and meets the needs of all-weather operation in airport and waiting station application scenarios.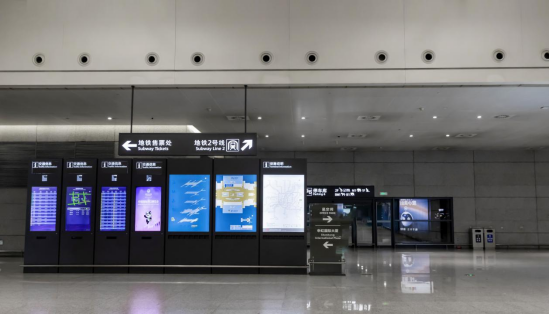 02 Metro and rail transit applications
When taking subway rail transit, digital signage is mainly used in subway platform entrances, station halls, passages, etc. After connecting with the subway PIS system, it can provide dynamic display of station arrival information, real-time and accurate information broadcast, and quickly display the status of track lines. and transfer information to facilitate travelers to keep abreast of subway passenger information.
HBONY digital signage cooperates with its software to schedule and control all display terminals, realize real-time push of multimedia information and traffic schedule information, and monitor the status of each display screen in time, and ensure the security of the display screen through intelligent control. normal operation.
03 Bus, high-speed way applications
With the continuous development of modern technology, "smart transportation", which can improve the convenience of the transportation service system and promote the intelligent and visual development of the transportation management system, came into being.
In the real-time, accurate and efficient integrated transportation and management system established by smart transportation, large-screen applications are indispensable, which are not only conducive to the display and presentation of various information, but also show strong vitality with dynamic images and interactive functions.
In bus application scenarios, waiting passengers can view vehicle information, ride information, weather forecast, etc. through HBONY digital signage, which not only provides passengers with a comfortable and humanized waiting experience, but also improves the reliability of travel time.
In high-speed traffic, digital signage mainly appears in different scenarios as expressway service information release screen, service area menu display screen, service area information display screen and other purposes. Fully meet the display needs of road condition information, announcement information, etc., high-brightness screen display, information display is clearly visible, providing convenient and efficient services for passing passengers.