Ordinary conference machines have significant drawbacks in the meeting scene, and the projection is easily blocked, lost color, and distorted, and cannot be used for remote meetings. As a leader in the commercial display field, Unique Display Technology has long been laying out a "bigger" market, making the application of the smart whiteboard in the conference scene more colorful and more interactive.
How to get rid of the shackles of space and let the application no longer have limitations. In terms of the solution, the conference all-in-one machine has built-in dual-system functions (Android/windows) to realize one-click easy switching; integrates projectors, electronic whiteboards, computers (optional), TVs, touch functions and other devices to make compatibility And the interactivity has been greatly improved, which can meet the diversified needs of the conference.
From the perspective of product features, the internal structure of the smart whiteboard is more concise, and the functions are more powerful, such as 4K, ultra-high-definition display, 20-point infrared touch, multiple people writing at the same time, super rich interfaces and other functions are integrated into the all-in-one machine. This makes Winbond's conference all-in-one machine smarter and easier to use than other products of the same type in the market.
Another highlight feature of the conference all-in-one is the 4K tempered anti-glare screen, 4K ultra-high-definition picture quality with tempered explosion-proof glass, superb anti-glare technology, no fear of glare, to ensure that the screen content is clearly visible in bright light environments, and you don't miss anything. A detail.
In terms of design, it breaks the large size that cannot be achieved by traditional conference machines. The size of the smart whiteboard covers 65 inches-100 inches. With the specially developed "same screen + split screen" software, it can support multiple shots, remote same screen, Two-screen, four-screen super functions, meeting the needs of meetings and simultaneous display in various environments, making the interaction unique.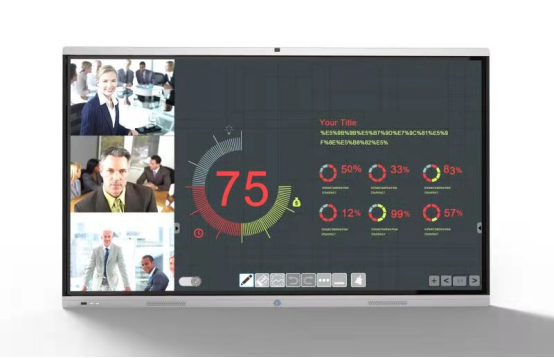 Unique Display Conference Whiteboard has a resolution of up to 3840*2160 resolution, free adjustment of brightness, and vivid color reproduction to bring high-definition and jitter-free images, and accurately display data and icon information.
In the future, Unique Display will continue to introduce more powerful conference all-in-one products through technological innovation, and bring clearer, smarter and more efficient conference experience to enterprises, such as business training, product promotion, project exhibition, information release, and department Meeting etc.